Fast forward 10 years…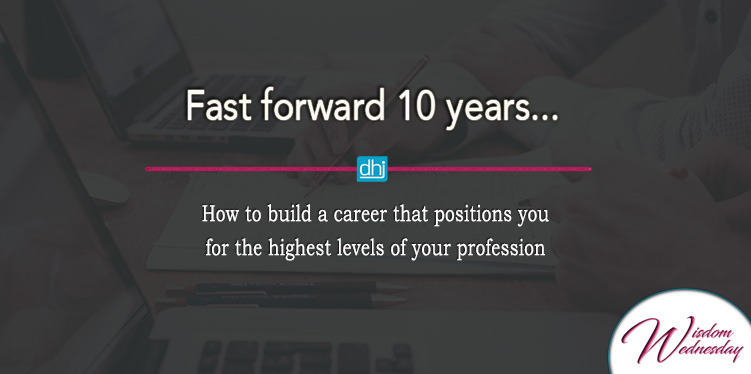 To build a career that positions you for the highest levels of your profession, you have to transcend your job description so that people see YOU and not just the work that you do.  Delivering excellent work is not enough at this point in your career.  In fact, it's expected and taken for granted in the higher ranks.
To really keep people's attention, you have to show that you solve problems, not just identify them. As a problem solver, when someone thinks of you, you want these words to come to mind:
focused
creative
tough
practical
candid
flexible
trustworthy
You work to gain trust in your wisdom as well as in your skills. About five years into my career, I was determined not to inherit yet another ill-conceived project. Stealing a line from the musical "Hamilton", I wanted to be in "the room where it happens…", i.e., at the table in a project's infancy when irreversible decisions were being made so that I could shape the process. But, I had to first prove myself worthy of entry by demonstrating that I added value.  How did I do this? By becoming a problem solver. There is no better way to build a client's trust than to become their go-to person when things get gnarly.
As you're growing your career, it's easy to get mired in the muck – the minutiae – your in box! -and lose sight of the ultimate goal. Remind yourself to take a moment to think about the end game.  Are you heading toward the goal line or just zigzagging on the field with no forward trajectory?
No one wants to work with a hand wringer! Be the one to clarify, simplify, obliterate and overcome the tough issues that bog others down. I once worked with someone who became giddy with excitement when faced with particularly challenging situations that left others baffled. It was actually fun to hire him for these projects because he welcomed them with such relish and enjoyment.  I often retained him for work outside of his subject matter expertise because he brought such creativity to his work. I trusted that if there was a solution to be found, he would find it.
Position yourself as problem solver and you'll have a rewarding and prosperous career.